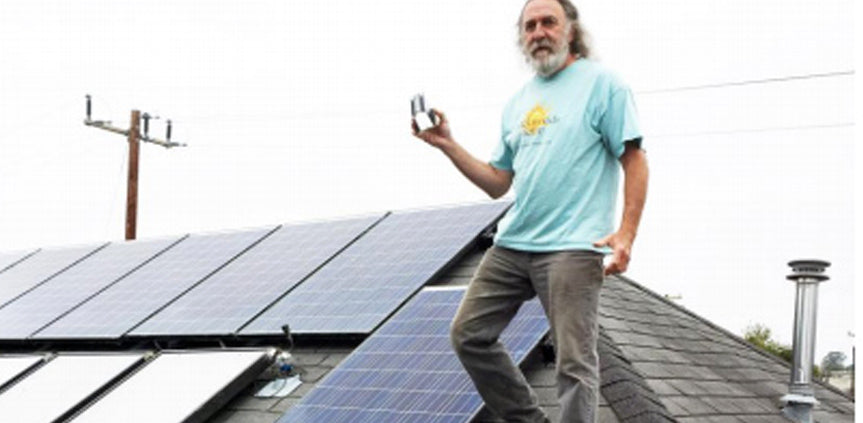 A Solar Pioneer Chooses Roof Tech E Mount AIR® For His Own Home
For David Katz, it was a long and winding road from his days as co-founder of the off-grid solar industry in 1979 to choosing Roof Tech's E Mount AIR® to install solar panels on his own home in 2017.
An enterprising homeowner blazes a new path for solar.
Considered by many to be the "guru" of alternative energy, Katz built an off-grid home in 1979 in Humboldt County in Northern California. At that time, he and his neighbors were enthusiastic followers of the popular back-to-the-land movement and were seeking off-grid energy solutions for their rural residences. That same year, Katz founded Alternative Energy Engineering (AEE) Solar, serving as its President, Chief Executive Officer and later as Chief Technology Officer for just over 34 years, gaining knowledge and new business contacts along the way. In the late 1990s, Katz first met Tim Vaughn, a longtime veteran of the solar industry who had done business with AEE and now serves as Roof Tech's Sales Director.
Selling one business and building more success with another.
Early in 2003, Katz bought an on-grid home about an hour away from his original off-grid home. In 2004, he purchased Backwoods Solar from Steve and Elizabeth Willey, who were ready to retire from the company they had founded in 1978. Then, in 2005, Katz sold part of AEE to a group of investors that merged AEE Solar and REC Solar to form Mainstream Energy Corporation, which merged with SunRun ten years later. Today, Backwoods Solar retains its original headquarters in Sandpoint, Idaho and has three additional locations in California and Oregon. The company now has 12 employees and continues to focus on distribution of off-grid power solutions and PV systems for residential customers. In recent years, Katz has stepped back from most day-to-day operations at Backwoods and dedicates part of his time to serving as Chief Technology Officer for Simusolar, a venture that provides and finances off-grid solutions for rural homes and businesses in Sub-Saharan Africa. Learn more at www.backwoodssolar.com and www.simusolar.com
Choosing E Mount AIR® to add new PV panels to his own home.
In keeping with its role as a major catalog sales source for homeowners, installers and businesses, Backwoods began to carry Roof Tech mounting products in 2016. In June 2017, Katz was getting ready to add nine 260W solar modules to the existing 11kW PV system on his current home in
Northern California and decided it was time to try Roof Tech products for himself. "The whole installation process was so easy with E Mount AIR," he said. "I climbed up to the roof with my chalk line and tape measure to mark everything out, then finished the whole job in a few hours!"
Roof Tech's butyl rubber flashing makes a great impression.
Katz is a big fan of the RT butyl rubber flashing used on E Mount AIR. "RT butyl makes a great seal and E Mount AIR makes it so much easier than trying to find rafters to mount your panels," he said. "You just screw in the mounting hardware and the butyl rubber acts like a big cork to prevent any
leaks." By the time he attended Intersolar in San Francisco in July 2017, Katz was excited to tell the Roof Tech team about his success using their products, adding, "Now that I know Roof Tech is the only rail-less mounting solution where you never have to worry about the rafters, I'm sure we'll be
recommending it to more of our customers."