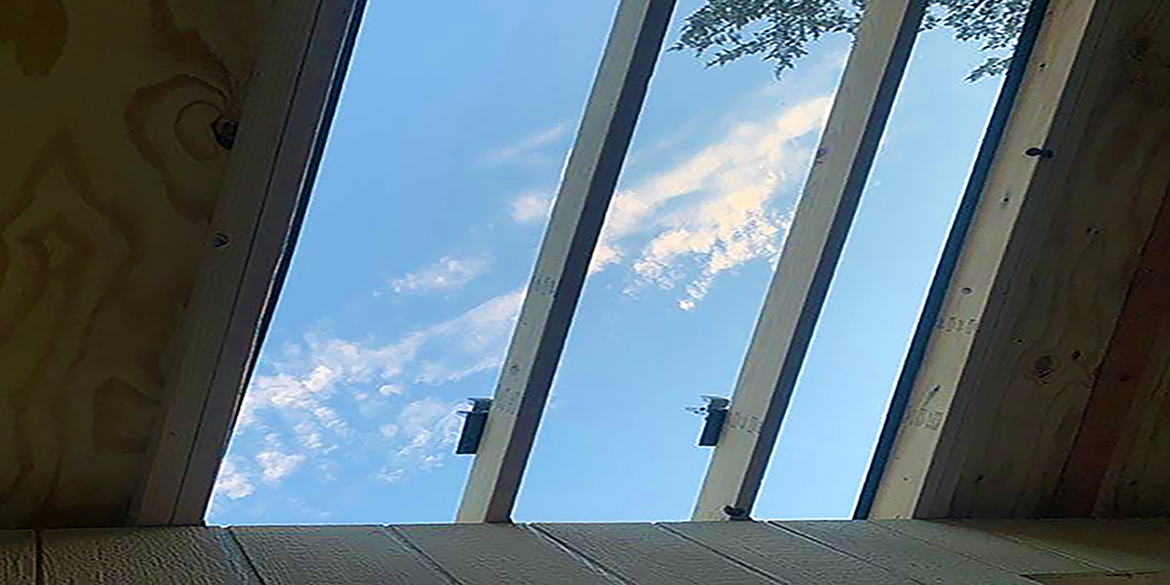 A Tiny Plexiglass House Featuring RT-MINI Closes Deals on the Spot
When Juan Nieves, President and Founder of Over the Top Solar, first began working in the solar business in 2007, his only option was to install systems using metal flashing. "After years working with metal flashing, my shoulders, arms, and hands would get numb from using the impact gun to install lag bolts," he explained. "I knew we needed a safer way to get our work done." Nieves began to search online for solar mounting alternatives and found Roof Tech. "They were still a very small company then," he said, "At first it was hard to find their products until I found CED Greentech in New Jersey who carried RT-MINI, and they have been our provider since then."

A trial period for RT MINI leads to longtime commitment.

Nieves said he first tried using RT-MINI on residential jobs to see how it would hold up against the rain and snow so common in the Northeast. "We wanted to be sure that the butyl tape would prevent any leaks," he said. "Since then, we've used RT-MINI to install solar on more than 400 homes and there hasn't been a single leak." That performance is due to AlphaSeal™, Roof Tech's proprietary flexible flashing base that protects the roof with an impenetrable seal against any type of moisture.

His message to contractors: Use RT-MINI II or you won't get my jobs.

"I'm basically a subcontractor and about 80 percent of my jobs come from different solar companies across New Jersey," Nieves explained. "Now I tell my customers to use RT-MINI II or we won't do business with them. I've actually cancelled jobs if they won't agree to use RT-MINI II." Nieves is very happy that he never has to rip up shingles to install flashing anymore. "We're done with metal flashing!" he said. "We are saving at least four hours a day using RT-MINI, and that makes everyone happy."

Spreading the word about RT-MINI II with a tiny plexiglass house.

Nieves is so enthusiastic about the benefits of RT-MINI II he came up with a novel way to spread the word. "I wanted my customers to see the product up close for themselves, not just view an iPad demo," he said. "So, I built a tiny house using plexiglass and mounted RT-MINI II on the roof."  The model home measures just 7 by 16 feet, and Nieves and his team load it onto a trailer and drive it around to show potential customers. "Now that people can see and touch RT-MINI II in person, we are closing deals right on the spot," he said. Nieves added that he has a partner in Delaware who specializes in metal roofing who has asked Nieves to build another plexiglass model to keep in his own factory.
| | |
| --- | --- |
| | |

Keeping RT-MINI handy with extra stock in every van.

With two crews constantly on the road, Nieves wants to be sure he has enough RT-MINI II's on hand when they are needed. "All our vans have at least 200 RT-MINIs loaded up so we are ready to use them," he said. He explained that he also uses RT-APEX, but 95 percent of his jobs are with RT-MINI. For more than five years, Nieves has been working with Joe Perez, Roof Tech Sales Manager for the Northeast and Canada. "Joe knows I work with about 18 different solar companies around New Jersey, and I told him I was switching all of them to RT-MINI," said Nieves. "Now my sales are skyrocketing!"

About Over the Top Solar

Over the Top Solar was founded in 2017 by Juan Nieves who established his first solar company in 2007 in Puerto Rico. OTT Solar now operates out of its headquarters in New Lisbon, New Jersey which houses one warehouse and a main office. The company serves all of New Jersey, and parts of Pennsylvania, Delaware, and New York. OTT Solar employs eight people comprising two crews who provide services for residential and commercial customers. To learn more about Over the Top Solar visit http://www.ottsolar.com/