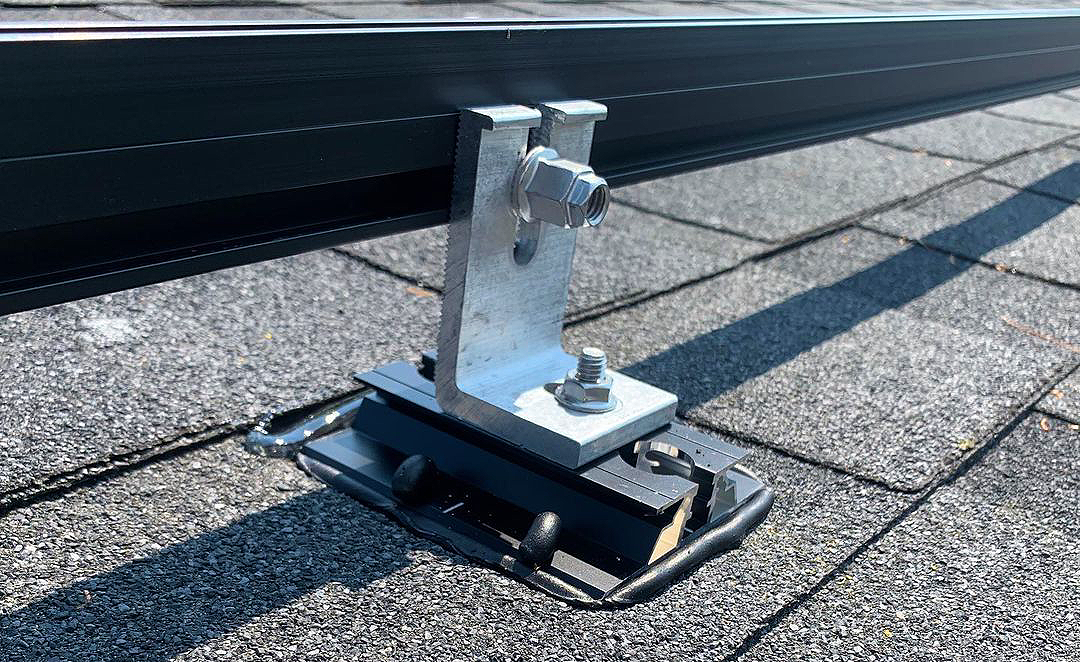 Roof Tech Earns Loyalty and Friendship from Voltaic Solaire
In 2017, Cesar Cruz, Director and Principal of Voltaic Solaire was searching for a way to install solar panels on a home where the roof had two layers of shingles. "We knew we couldn't use regular flashing on that project because it would entail lifting up the shingles," he said. "We heard that CED Greentech in New Jersey was the only nearby source for Roof Tech products, so we decided to order a few." After trying out RT-MINI, Cruz immediately realized that his installers would never again have to lift another shingle. Since then, Voltaic Solaire has used RT-MINI exclusively on more than 400 residential installations.

Detailed on-site demos lead to successful sales.
Cruz explained that each of Voltaic Solaire's salespeople carry an RT-MINI II with L-foot bracket to every sales call. "They can easily demonstrate how RT-MINI II attaches to the roof without damaging the shingles or rafters," he said. "When customers view Roof Tech's video with underwater simulation, they see for themselves that this product is 100% waterproof." Cruz noted that winter weather in his region can be very tough on rooftop installations, with heavy snow and high winds. "Any problem with leaks can end up costing me a fortune," he said, "but I haven't had a single service call about leaks since discovering RT-MINI II."

An easy transition from business colleagues to friends.
Right from the start, Cruz has been impressed with the service provided by Joe Perez, Roof Tech Sales Director. "I first met Joe at a tradeshow in Boston and he asked where I'm from," recalled Cruz. "When I said New Jersey, he mentioned Juan Nieves, president of Over the Top Solar who is a longtime fan of Roof Tech and is one of my best friends!" From that moment on, Perez and Cruz also became friends. "To me, Roof Tech is much more than the RT-MINI," said Cruz. "They are a great company with beautiful people – and an excellent product that sells itself."

About Voltaic Solaire
Voltaic Solaire was founded in 2008 by master electrician Carlos Berger who serves as chief executive officer. Principals include director of engineering Cesar Cruz and managing partner Heather Keim, who runs operations. The company was established in Brooklyn, New York and is now headquartered in Somerset, New Jersey where it provides end-to-end solar services to residential and commercial customers in all five boroughs of New York. Voltaic Solaire has 22 employees, eight of whom comprise the company's engineering department in the country of Colombia. Final designs are forwarded to the team in New Jersey who oversee construction and perform solar installations. To learn more about Voltaic Solaire visit https://voltaicsolaire.com