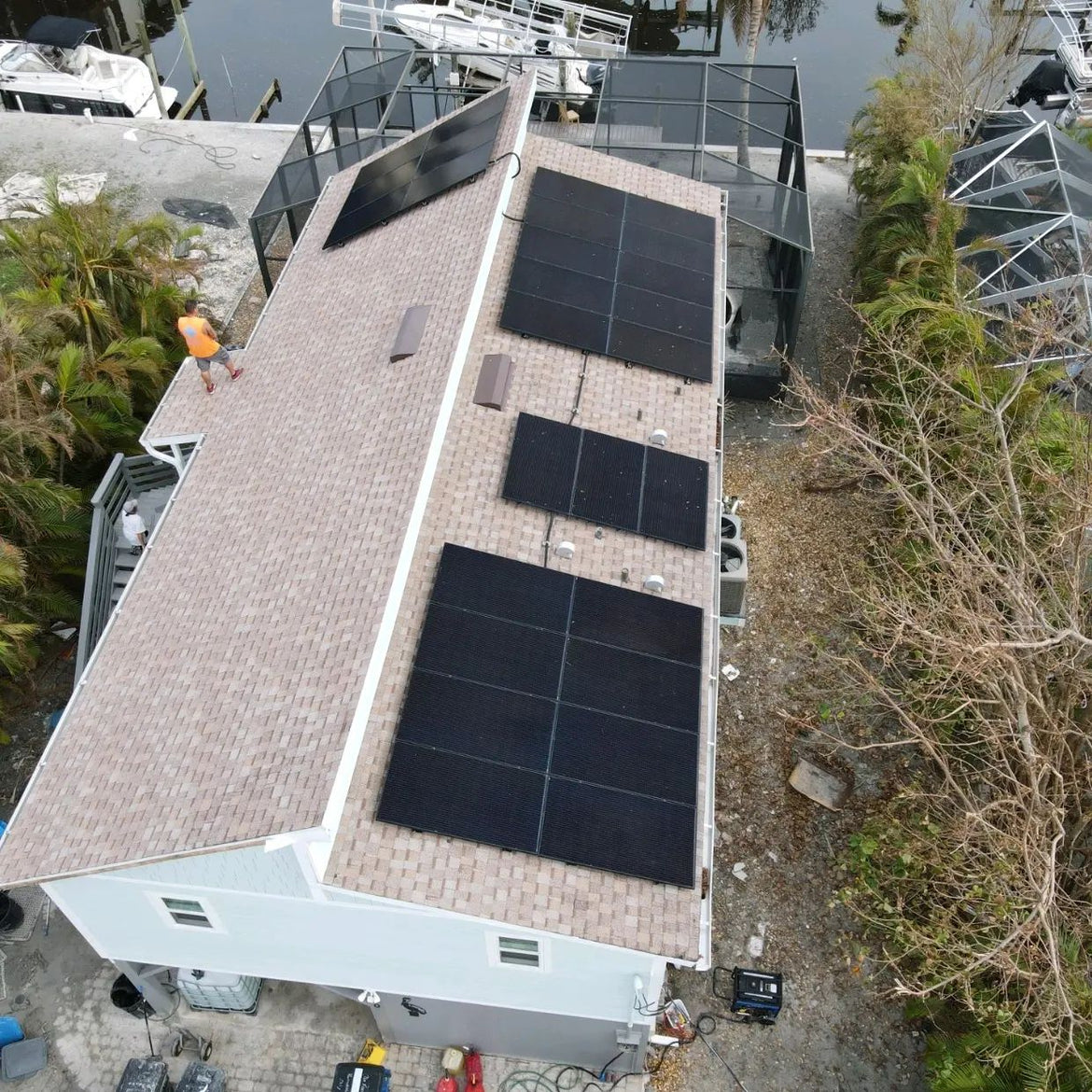 Roof Tech's RT-MINI Proves a Worthy Match to Hurricane Ian
When Hurricane Ian made landfall just west of Fort Myers, Florida, on September 28, 2022, as a historic Category 4 storm, it quickly became the most destructive hurricane to strike Florida since 1935. With high winds of 120 mph and gusts up to 160 mph, Ian caused widespread damage across western and central Florida. The cities of Fort Myers, Port Charlotte, and Lake Placid were especially hit hard, and May Electric Solar had previously installed PV systems on homes in all three areas. 


PV panels installed with RT-MINI II survive the storm intact.
After the brunt of the storm had passed, company founder William May and his team went to survey the damage on their customers' homes. "We found ten projects that needed new roofs," he said, "but the portions of the roofs where solar panels had been installed with RT-MINI II were completely leak-free. The mounting bases were intact, and all the panels were exactly where we originally placed them." May recalled seeing homes on nearby streets in Fort Myers where solar panels were completely blown off the roof and into the canal. "Our projects statewide had some flooding on the first and second floors," he said, "but the top floors had no leaks because RT-MINI had kept all the panels and shingles in place." 


Customers see the strength of RT-MINI II for themselves.
When May Electric's customers returned to their homes after the storm, they encountered widespread flooding and broken windows, but their solar panels were unharmed. "The families were really impressed with the performance of RT-MINI II," said May. RT-MINI II is engineered to withstand wind speeds up to 180 mph and proved to be the ideal choice for hurricane-prone areas. In fact, since April 2021, this patented mounting base has been product-approved in Florida for all High-Velocity Hurricane Zone (HVHZ) projects. 


Quality products and services backed by industry-leading warranties. 
Today, 90 percent of May Electric's projects are installed using RT-MINI II. "Since discovering Roof Tech in 2018, we've completed more than 2,500 projects with many more to come," May said. He added that his company began providing customers with a 30-year warranty on all labor and services, which is in addition to Roof Tech's own 25-year warranty. "We've been very impressed with RT-MINI II," said May, "After witnessing its performance during Ian, we're not afraid of any hurricanes to come in the future." 


About May Electric Solar
May Electric Solar was founded in 2006 by William May, a master electrician with extensive experience with utility projects and roofing. The company has focused on solar electric installation and design for residential customers since 2010. The company's headquarters are in Caspar, Florida, and its 22 employees serve customers throughout the western and central regions of the state. Since its founding, May Electric has grown to become one of Florida's top five solar PV contractors. To learn more, visit https://www.mayelectricsolar.com