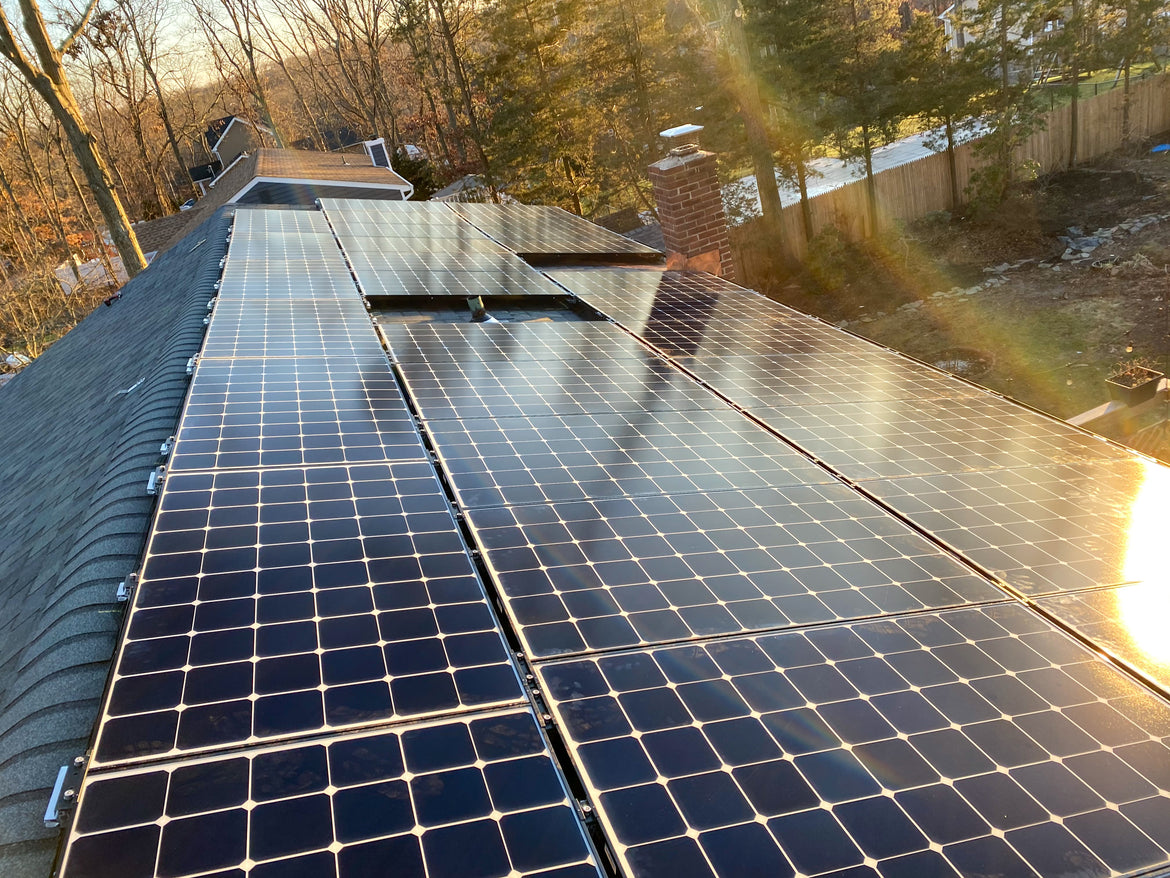 A Family-Owned Roofing Company Discovers the Added Value of Roof Tech
Gina Marzano Farese remembers running on rooftops at a young age and later began working side-by-side with construction crews helping to rip out and install roofing. Her father, Gary Marzano, also grew up on construction sites and is now the owner and president of Marcor Construction Roofing & More on Long Island. Today, Farese owns the solar division of Marcor and manages all the company's solar accounts, working closely with builders, developers, and homeowner associations. "Roofing is a huge part of solar and roofers need to understand how to make the two work together," she explained. "The labor laws in New York are very strict, and when roofers subcontract roof work to a solar company, the solar company must be properly protected by the roofer's insurance to avoid liability."
Breadth of knowledge makes this woman an expert in solar installations and roofing.
Years of experience in roofing has made Farese a staunch advocate for quality in all aspects of the business. After witnessing widespread roof damage from severe storms on Long Island, she became a public adjuster so she could help homeowners with insurance issues resulting from their losses. She also has a degree in finance and has taken great care to develop trusted relationships with solar companies in her market area. "Today, Marcor handles roofing and solar-related installations for more than 50 companies on a wholesale basis," she explained. "Since joining Marcor in 2009, I've helped these companies build their businesses and launch their own roofing divisions."
Roof leaks caused by faulty solar installations make Marcor a believer in Roof Tech.
Much of Marcor's business in recent years has involved repairing roof leaks resulting from faulty installation of solar panels. A few years before Marcor established its solar division, Farese learned about Roof Tech and was immediately impressed with their use of butyl tape for mounting systems. "From that day on, I insisted that all our solar repairs, system removals, and installations would be done with Roof Tech mounting systems."
Thanks to leak-free performance, Marcor insists on Roof Tech for all its solar installations.
Marcor has been a full-time user of Roof Tech products since October 2020 and has used RT-APEX for system racking and RT-MINI for conduit and other auxiliary applications. "Roof Tech's mounting systems protect the integrity of the shingles, so there are never any leaks," Farese noted. "Now I insist that our installers use Roof Tech products for all our jobs." Farese also appreciates the support and knowledge that Roof Tech offers, and the company's 25-year warranty provides her with even more confidence. "My goal is to provide the best value for my customers," she added. "Roof Tech makes it easy for me to do that."
When it comes to choosing solar mounting products, education is key.
When asked what she would say to other companies considering the switch to Roof Tech, Farese answered without hesitation. "You need to take the time to educate yourself," Farese said. "So many people stick with railed systems because they think it's easier, but with Roof Tech rail-less mounting systems you save so much time." Farese noted that when homeowners have to remove and reinstall an entire solar system in 8 or 10 years due to leaks, they can end up paying thousands of dollars out of their own pocket. "It's smarter to pay a bit more up front and know you have a 25-year warranty," she said. "Once you see Roof Tech products for yourself, you immediately know why they are better."
About Marcor Construction Roofing & More
Marcor Construction Roofing & More is a family-owned and operated business with more than 20 years of experience serving residential customers on Long Island, New York. Their services include solar panel installation and service, roof repair and replacement, siding and skylight installation, and roof inspections. More than 95% of the company's solar installation projects are for the residential market. Marcor has three offices on Long Island, including their headquarters in West Babylon, a showroom in Babylon Village, and their new solar division in Central Islip. To learn more, visit www.marcorny.com