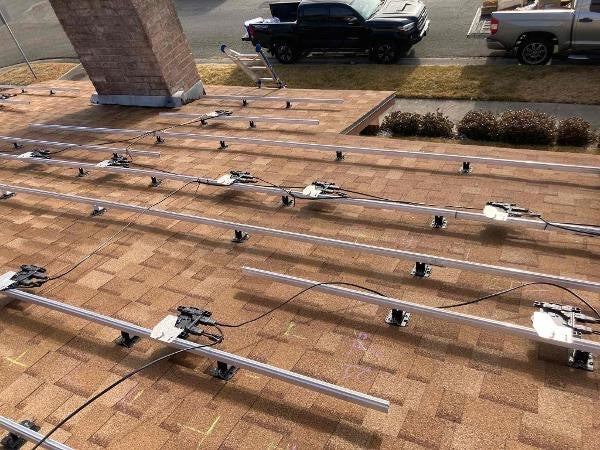 Roof Tech Wins A Loyal Customer in Texas with RT-MINI
Robb Marshall, Materials Logistics Manager for Greenlight Solar, first learned about Roof Tech in January 2019. "A local supplier in our office complex already knew about Roof Tech and referred us to them," he said. Not long after, Ken Clem, Sales Manager for Roof Tech's South Central Region, visited Greenlight Solar in person to hand-deliver product samples to Marshall.
Roof Tech's Proactive Approach to Service Makes a Lasting Impression.
Roof Tech's product design is unique and represented a big change in engineering for Greenlight's projects throughout Texas. "From the very first meeting, Ken Clem took the initiative to help us on multiple levels," Marshall recalls. "He worked directly with our local utilities and made sure the city inspectors had spec sheets ahead of time to smooth out the permitting process. Thanks to Ken, we now use Roof Tech products on all our jobs with no issues."
Greenlight Uses RT-MINI to Save Time and Money on Solar Installations.
The majority of Greenlight's residential work is for railed solar installations, so the RT-MINI with its self-flashing mounting base offered the ideal product choice. "The use of butyl was key to our decision to go with Roof Tech," Marshall said. "Because RT-MINI is fastened to the roof with wood screws, there's no need for pilot holes and it protects the integrity of the roof, leaving the original roof warranty intact."
RT-MINI Easily Stands Up to the Powerful Coastal Windstorms in Texas.
The southeast coast of Texas is renowned for its powerful windstorms and seasonal hurricanes, with many towns designated as catastrophe areas. As a result, any rooftop installation must be able to stand up to high winds. RT-MINI is engineered to withstand wind speeds up to 180 mph, and butyl rubber creates an impervious seal. "Now we're using RT-MINI on 90 percent of all our shingle roof jobs," said Marshall. "Plus, our installers love working with it." When asked what he'd say to other solar companies that were considering trying Roof Tech products for the first time, Marshall laughed and replied, "Don't buy Roof Tech because it will leave more for me. I'm going to buy them all!"
About Greenlight Solar
Greenlight Solar was founded in 2015 and continues to operate its headquarters out of Houston, Texas. The staff includes project managers working out of offices in Austin, San Antonio and Dallas as well as Houston to serve customers throughout the state of Texas. A majority of Greenlight's business is in the residential sector, and services include engineering, permitting, installation and interconnection with utilities.