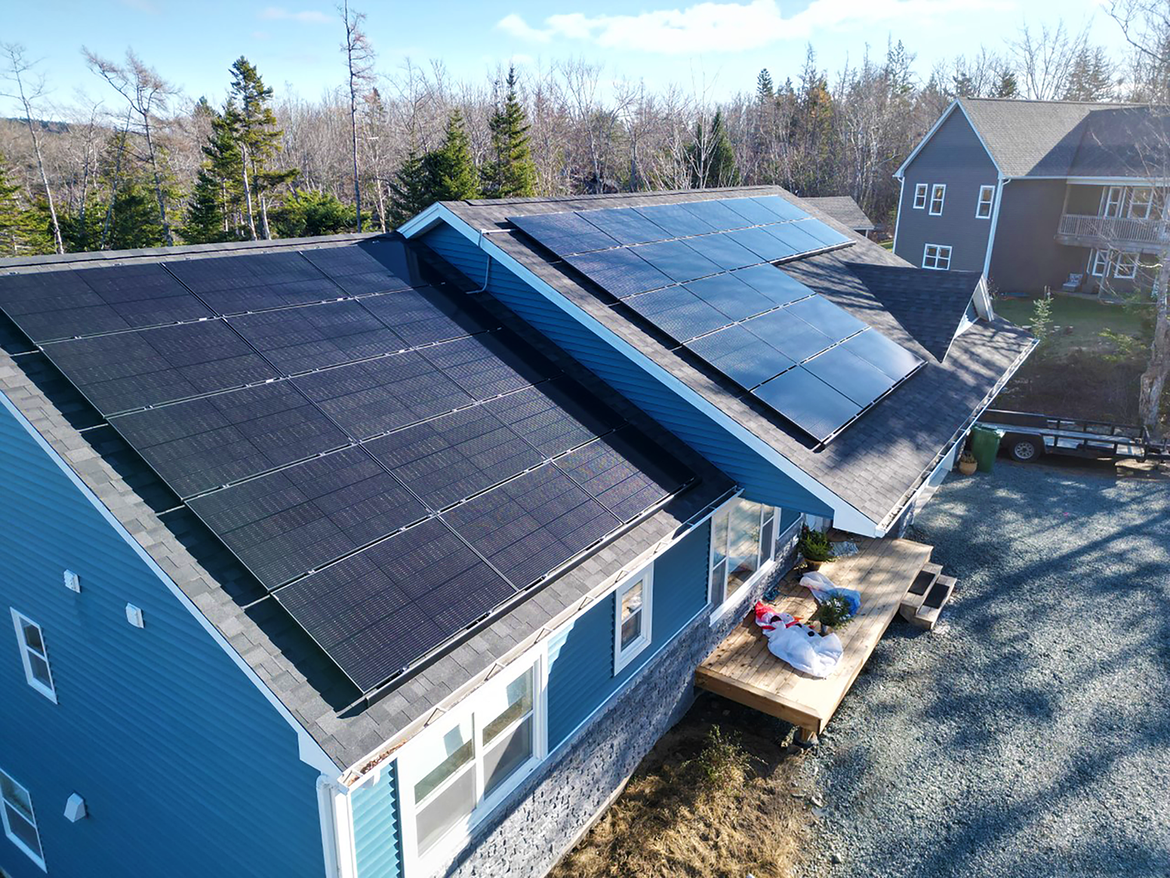 RT-APEX with AlphaSeal™ is a New Favorite for TreeTop Solar, Inc.
Stephen Vezina, owner, and operator of TreeTop Solar, Inc. in Nova Scotia, Canada, was intrigued by RT-APEX with AlphaSeal™ from the first time he saw it. "It was a brand-new product from Roof Tech at that time," he said, "so we decided to give it a try," Vezina explained that RT-APEX was the first rail-less mounting product his company ever used, and the results were impressive. "I'm always open to trying new products, and RT-APEX was very fast and easy to use," he said, adding, "The vertical height adjustment feature turned out to be a massive timesaver for us. Whenever there's a wavy roof, you can easily adjust to make the mount flush across the entire roof."

The sleek, all-black appearance of RT-APEX fits perfectly with the modules.
Vezina noted that his company now uses only black solar modules, which are the clear preference of his customers. "The design of RT-APEX really appealed to me," he said. "It's all black, just like our modules, so it creates a visually appealing installation," Vezina recalled one homeowner who had seen blue panels with silver frames on other rooftops, and she insisted on black solar panels matched to RT-APEX to retain the aesthetic of the roof on her new-build home.




Previous experience with RT-MINI made TreeTop a loyal customer.
Before founding TreeTop Solar in early 2021, Vezina had worked for another Canadian solar company that had switched to RT-MINI from traditional flashing back in 2020. "Immediately, RT-MINI improved the speed and efficiency of our installations," Vezina recalled. "I still prefer RT-MINI to regular flashing for our jobs. It's a foolproof system, and there are never any leaks." Since starting TreeTop Solar, Vezina has used RT-MINI on more than 50 jobs and plans to continue using RT-APEX on any job best suited for rail-less installation.

The ideal mounting products for Canada's heavy snow and freezing temperatures.
Weather is a huge factor for solar installers in Nova Scotia, with major snow accumulation and freezing rain. "We have to slow down our installation schedule in the winter because the weather is too bad to work on the roof," Vezina explained. "But we have absolute confidence in the seal created by Roof Tech's AlphaSeal™. We've never had any issues with their mounting products, and we appreciate that there's no additional tar required to get our jobs done." Vezina voiced his approval of Roof Tech with genuine enthusiasm. "We are a huge supporter of Roof Tech and its products," he said. "I swear by them to every customer I talk to!"

About TreeTop Solar, Inc.
TreeTop Solar, Inc. was founded in early 2021 by owner-operator Stephen Vezina. The company works primarily with residential customers throughout mainland Nova Scotia. While 95 percent of their installations are for grid-tied solar, TreeTop also works closely with homeowners in rural areas who want the independence of living off the grid. TreeTop handles virtually all projects in-house, with services that include grid-tied solar and upgrades; battery backup; off-grid solar; new-build grid-tied solar, and integrated solar and battery backup. To learn more about TreeTop Solar, visit https://treetopsolar.ca