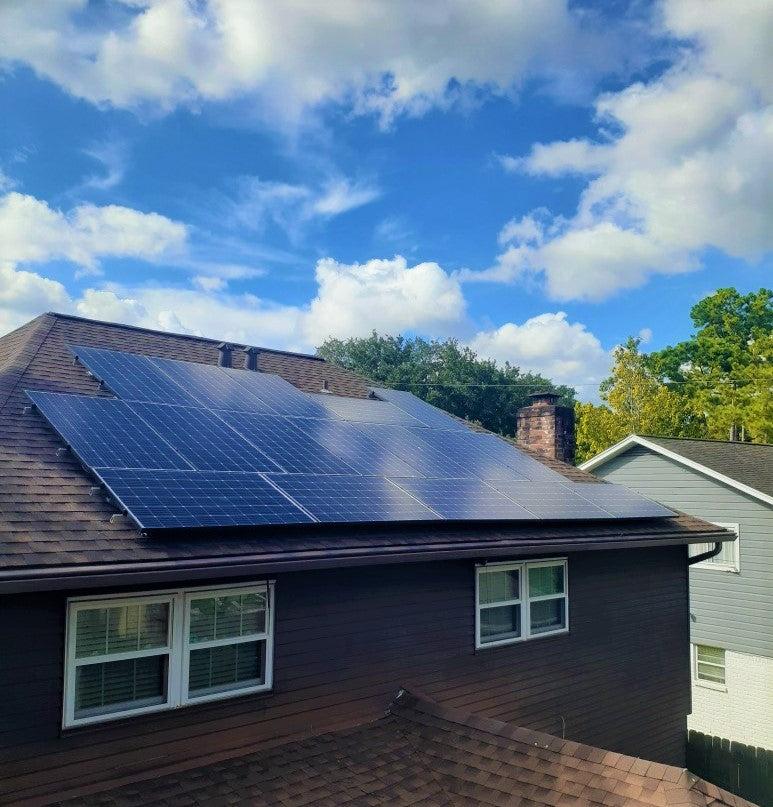 The Clear Benefits of the RT-MINI Make Hays Energy a Loyal Customer
Hays Energy Operations Manager Keiana Kavanaugh first learned about Roof Tech in 2017 while working for another company, and she immediately recognized the benefits of RT-MINI. "When I arrived at Hays, they were still using traditional flashing for solar installations," she explained. "I knew the biggest selling point of RT-MINI was how well it prevents roof leaks, which can be a major issue in our region, so I convinced the Hays team to give it a try." Since then, Hays Energy has used RT-MINI for all its residential solar projects.
RT MINI proves to be a great fit for huge homes with complex rooflines.
Martin Tate, Vice President of Hays Energy, explained that Hays' customers tend to have very large homes with multiple angles on the rooftop. "For us, an average PV installation ranges from 16 to 24kW as opposed to our competitors whose typical projects are around 10 to 12kW," said Tate. "A typical rooftop for our customers resembles origami, with changing angles that require two or three panels on each surface. With RT-MINI, the butyl rubber seal ensures that every panel is watertight."
Hays' customers demand leakproof mounting systems, and RT-MINI delivers.
Tate said his team gets lots of questions from customers about potential leaks, and he doesn't hesitate to assure them that RT-MINI will do the job. "We actually use the spec sheet from Roof Tech to educate our customers about the benefits of RT-MINI," he explained. Tate pointed out that in Central Texas, the weather changes from brutal heat in the summer to extreme cold in the winter, and the hurricane season brings very high winds. "When customers ask if a hurricane could blow the whole PV system off the roof, I explain that we use wood screws to attach RT-MINI directly to the joist, so there's no need to drill pilot holes. The PV system stays secure, and there are never any ripped or damaged shingles."
Hays' installation team prefers RT-MINI over any other mounting system.
"Several of our installers had worked with RT-MINI at their previous jobs," said Kavanaugh, "so they already recognized the benefits. Since there's no need to lift the shingles up, the whole installation process is faster and easier, which translates into significant cost savings." Tate added that his customers also appreciate the streamlined look of RT-MINI. "Our customers are highly educated and want to know every detail about their PV system," Tate explained. "Luckily, we are small enough that we are able to hand-hold customers through each step of the job, so they are fully confident in the end result." Asked what he'd say to other companies considering a change to RT-MINI, Tate had a concise answer: "It's a no-brainer. RT-MINI makes installation quick and simple, and that saves time and money for everyone."
About Hays Energy
Hays Electrical, founded in 2005, is the umbrella company of Hays Energy which was established as a subsidiary in 2017. The company maintains its headquarters in Humble, Texas, just outside Houston, and employs 170 people – 150 for Hays Electrical and 20 for Hays Energy. Nearly 85% of Hays Energy's solar projects are for residential customers, while Hays Electrical focuses on hotel renovations and new buildouts across 26 states. Main image credited to Hays Energy. To learn more, visit https://www.hays.energy.
About Roof Tech
Roof Tech, Inc. is the first U.S. subsidiary of Yanegiken, a Japanese company renowned for more than five decades of innovative roofing technologies. In 2013, Roof Tech established its U.S. operations and is now headquartered in San Diego, California. Roof Tech has a national network of distributors to provide its unique PV solar mounting solutions for residential and commercial projects. Roof Tech's current product line includes RT MINI, U set Solar®, the new RT-APEX, and RT-REB Roof Entry Bracket. All products are fully code-compliant and offer compact, watertight performance for rooftop solar installations.